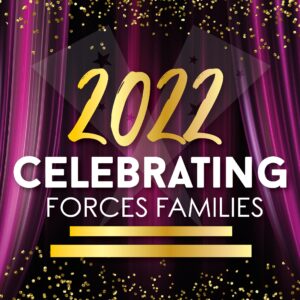 In April of 2022 the first ever Celebrating Forces Families Awards were held at Victory Services Club, London. The awards categories included Inspiration Family Member of the Year, Social Media Influencer of the Year, Armed Forces Advocate of the Year and Exemplar Forces Friendly Employer of the Year, among others.
We were honoured to have been nominated in the Exemplar Forces Friendly Employer of the Year category, and our founder Nadine was nominated as Armed Forces Advocate of the Year as well.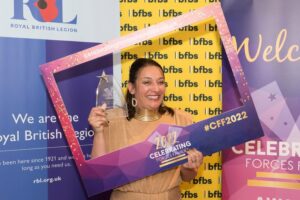 Nadine attended the ceremony, representing herself and Forces Family Finance and we were all thrilled that she won the category of Armed Forces Advocate of the Year!
It's a proud moment for us as we know how hard she's worked over the years advocating for all Forces Families, and as she said as a part of her acceptance speech "Behind every service person is a family who serves just as hard." Nadine tirelessly works on improving financial literacy among serving personnel and military families, dedicating the last 8 years to championing the military community to lenders, insurers, employers and networks. She's also an Ambassador for the incredible MILSPO® network which supports all UK military spouses, partners and other-halves to build the business of their dreams.
We're so thrilled that Nadine has been recognised for her dedication, and love seeing the award shining away in our office every day. Congratulations Nadine!