We were absolutely thrilled to sponsor the Milspo Business Awards again in 2021. We have supported Milspo from the very beginning, and know of the value that Military Spouses, Partners and Other Halves bring to the business world. Nadine is a Military Spouse, and we always strive to support spouses as much as we can!
So, without further ado lets talk all about these incredible winners!
Milspo New Talent Award 2021
For any new SPO business launched in the last 18 months.
The winner with quite a few nominations was Rachel Luke from Rachel Luke Virtual Assistant.
She has made such an impact since joining Milspo that you would think she had been around for a decade! Rachel works with small business owners struggling to complete their never-ending admin tasks or want to build their social media presence but isn't quite sure how through her Virtual Assistant support and Social Media Power Hours.
Website: www.rachelluke.co.uk
Instagram: www.instagram.com/rachellukeva
Facebook: www.facebook.com/rachellukeva
Milspo Collaboration Award 2021
A SPO business owner who can demonstrate examples of working with or alongside other Milspo or related organisations in a mutually reciprocal way.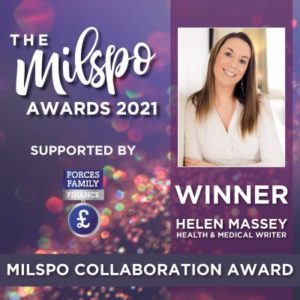 The winner who stood out from the crowd of nominations was Helen Massey  from Helen Massey Health & Medical Writer.
Helen has, alongside her main business as a content writer, worked tirelessly for the benefit of spouses/veterans/freelance and employed to collaborate, compile and publish the fantastic Career Pursuit magazine this year during Covid showcasing so many of us and other military community talents.
Website: www.medicalandhealthwriter.com
Instagram: www.instagram.com/helen_massy
Facebook: www.facebook.com/medicalandhealthwriter
LinkedIn: www.linkedin.com/in/helen-massy-1446a6193
Milspo Advocate Award 2021
A business owner from the inside or beyond the Armed Forces Community that regularly champions all things Milspo, including other businesses from within the group.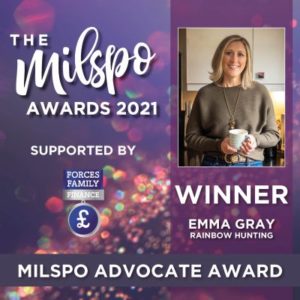 The winner was Emma Gray from Rainbow Hunting.
Emma has built a business around helping others through shared experience and expertise and is a huge Milpso advocate who never misses an opportunity to name drop MILSPO in her media opportunities, including on Sky News!
Website: www.rainbowhunting.co.uk
Instagram: www.instagram.com/rainbowhuntingmoments
Facebook: www.facebook.com/rainbowhuntingmoments
Twitter: www.twitter.com/HuntingRainbow
LinkedIn: www.linkedin.com/in/emma-gray-50245133
Milspo Ad Astra Award 2021
Taken from the RAF motto 'from adversity to the stars', this is an SPO business owner who has shown strength through adversity and has flourished in the business and Armed Forces community.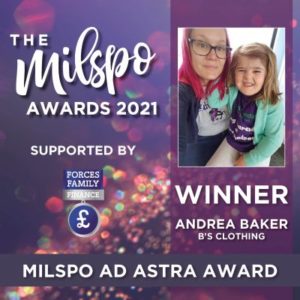 The winner was Andrea Baker from B's Clothing & Gifts.
On a daily basis, Andrea runs her business whilst catering for her daughter's additional needs and supporting the charity that does this. Also, this year she has moved home and sadly lost her father. However, she has still managed to take orders from customers of military units, military spouses, and the general public and work to grow her business.
Website: www.bsclothingandgifts.co.uk
Instagram: www.instagram.com/bsclothingandgifts
Facebook: www.facebook.com/BsClothingAndGifts
Pinterest: www.pinterest.co.uk/bsclothinggifts
Twitter: www.twitter.com/bsclothinggifts
Milspo Network Award 2021
This is our network's favourite SPO business owner for demonstrating resilience, determination, and new criteria is that they are a profitable business and have been trading in some form for over two years.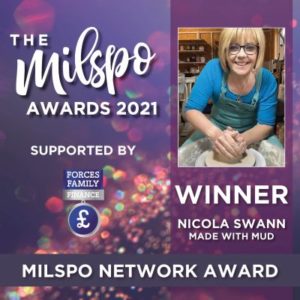 The winner was Nicola Swan from Made with Mud.
This lady can demonstrate all areas of this award and had to show diversity in resilience last year during the height of the pandemic, most recently when she was horrifically trolled online. Rising above the haters and turning an awful time into a positive that helped grow her business, Nicola has shown us all the meaning of true grit.
Website: www.madewithmud.co.uk
TikTok: www.tiktok.com/@madewithmudpottery
Instagram: www.instagram.com/Made.With.Mud
Facebook: www.facebook.com/MadeWithMud
Twitter: www.twitter.com/MadeWithMud
As you can see we had some incredible winners this year, and we want to extend our congratulations to them again!