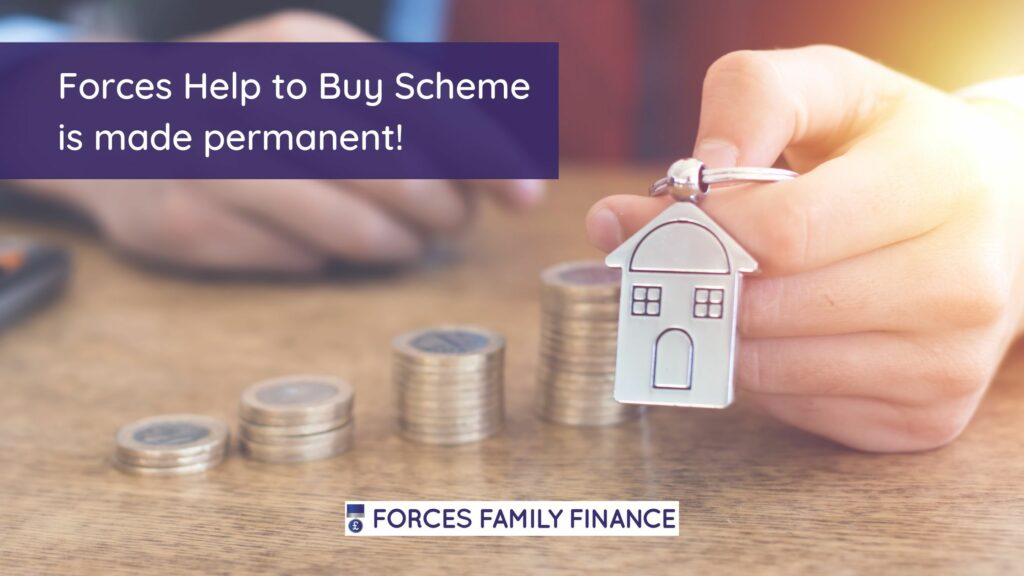 Since the Forces Help to Buy Scheme was introduced back in 2014 we have helped hundreds of families use the scheme to buy homes. The Forces Help to Buy Scheme was due to finish after a couple of extensions, but just before Christmas in 2022 it was announced that the scheme is becoming an enduring policy (in other words, becoming permanent). This is fantastic news for Military Families and we are thrilled to be able to continue helping families use the scheme.
What is the Forces Help to Buy Scheme?
If you're new to Military life, or haven't thought about buying a home before – in a nutshell the Forces Help to Buy Scheme enables service personnel to borrow up to 50% of their salary, up to a maximum of £25,000 interest free towards the purchase of a property.
Can I use the Forces Help to Buy Scheme?
If you're a regular personnel who has completed the pre-requisite length of service, are not a reservist or MPGS, have more than 6 months left to serve at the point of application, and meet the right medical categories you are eligible to apply.
For more information refer to JSP 464, volume 1, part 1, chapter 12 or get in touch with us.
Do I have to buy a new build house?
No, you can use the scheme to buy any home on the market, not just a new build like in some of the other Government Help to Buy Schemes.
What about if I already own a home?
If you're buying a new property more suitable for your families requirements, or on a posting, you can use the scheme towards a deposit and/or other fees such as solicitor's and estate agent fees.
Will the Forces Help to Buy Scheme finish?
No! It's now an enduring policy so is here to stay!
I need more information about the Forces Help to Buy Scheme
Check out our other blogs on the topic, download out handy Forces Help to Buy Guide for free, or get in touch either by phone: 03303322614 or email: customerservices@forcesfamilyfinance.co.uk
YOUR HOME MAY BE REPOSSESSED IF YOU DO NOT KEEP UP REPAYMENTS ON YOUR MORTGAGE
Content of the articles featured in this website are for your general information and use only and is not intended to address your particular requirements or constitute a full and authoritative statement of the law. They should not be relied upon in their entirety and shall not be deemed to be, or constitute advice. Although endeavours have been made to provide accurate and timely information, there can be no guarantee that such information is accurate as of the date it is received or that it will continue to be accurate in the future. No individual or company should act upon such information without receiving appropriate professional advice after a thorough examination of their particular situation. We cannot accept responsibility for any loss as a result of acts or omissions taken in respect of any articles.